---
From www.sherdog.com
Nick Diaz took out B.J. Penn and took aim at welterweight champion Georges St. Pierre.
The ruthless Diaz whipped into Penn with his trademark high-volume strikes en route to a clear-cut unanimous decision in the UFC 137 headliner on Saturday at the Mandalay Bay Events Center in Las Vegas. By the time it was done, Penn's face was a bloody and swollen mess, having absorbed countless blows to the head and body from the former Strikeforce champion.
Nor-Cal Fighting Alliance No GI Jiu Jitsu Tournament Nov 5th. Team Santos No GI Jiu Jitsu Tournament sometime in December. Time to train.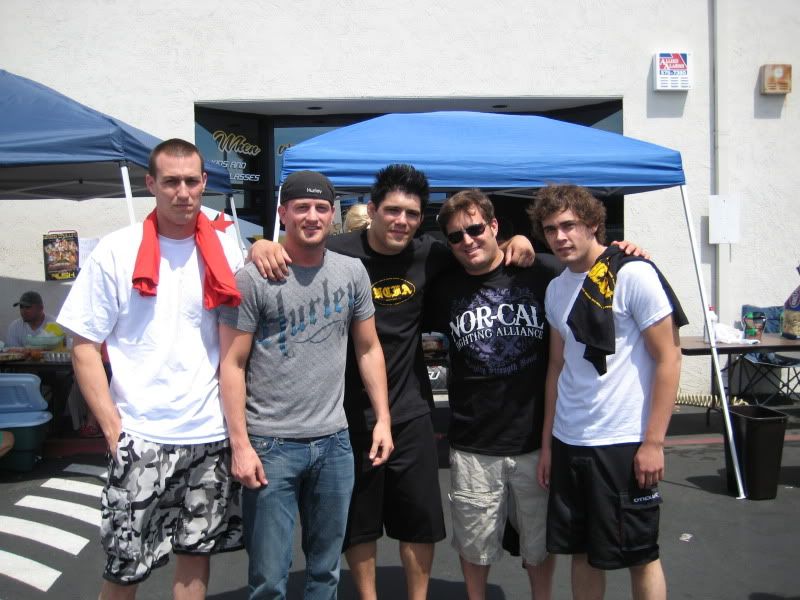 People that show up to train get better period.I have seen a lot of talent while training Jiu Jitsu since 1995 some have made it to the next level David Terrell,Gil Castillo,Nick Diaz,Jake Shields,Nathan Diaz,Gilbert Melendez to name a few who became stars.
The sad part about it is those few examples are very rare!Many more with physical gifts Speed,power gave up pushed their chair back and walked away.
Come on down to San Ramon Martial Arts tomorrow, September 24, from 10:30am to 4pm, for the Grand Opening celebration. Start a great new hobby or fitness program at crazy low rates. Come see what we're all about and receive free training with sign up of any program, no sign up fees and free gear. Lunch will be served from 11:30am to 2:00pm, provided by Mi Pueblo in Hayward/San Leandro. #Sanramonbjj #Teamsantosbjj #graciefightersanramon .
San Ramon, CA 94583.
Tuesday, September 20, 2011
Should You Weightlift in Jiu-Jitsu?
In my early days as a Jiu-Jitsu student I was told that to be good at Gracie Jiu-Jitsu that I shouldn't lift weights. I was told it adversely effects your technique because you want to use the proper angle instead of muscling through a position to be most effective.
Team Santos has a new kids only class! Hours are Mondays 5pm-6pm and Wednesdays 5pm-6pm or 6pm-7pm. Head instructor is Santos Blue Belt and top notch instructor Rob Santos. Jiu Jitsu is great exercise and the most practical martial art for self defense on the planet. So bring the kids down and let them try it, we guarantee they will have a great time!
Team Santos Jiu Jitsu, Chris Glynn Kickboxing has moved to a new location! The new facility is beautiful and spacious with tons of mat space, a cage, bags and weights. The new address is , San Ramon, CA 94583. Come and check out the new facility!